Gravity Meters LaCoste and Romberg Aliod G Gravity Meter #104010
The Lacoste and Romberg Model G gravity meter has been a mainstay of exploration for many years. Recent improvements greatly increased the production rate and ease of use. The Aliod modification changes the mode of acquisition to a digital read-out and/or logging of the gravity measurement. Because there is no longer necessity to read through the eye-piece, the accuracy and repeatability of the instrument are much less subjective.

A second modification changes the battery pack to a lithium-ion rechargeable that is located on the meter itself. This eliminates the umbilical cord which previously connected the meter to the external battery.
Trimble Nomad Data Logger

EXI offers data logging for the Aliod system through the use of a Trimble Nomad running Windows Mobile OS. Perhaps one of the nicest, most convenient mods is the addition of Bluetooth connectivity between the data logger and the system board in the gravity meter, thereby eliminating that pesky cable connection. The Nomad provides positioning data via integrated gps receiver.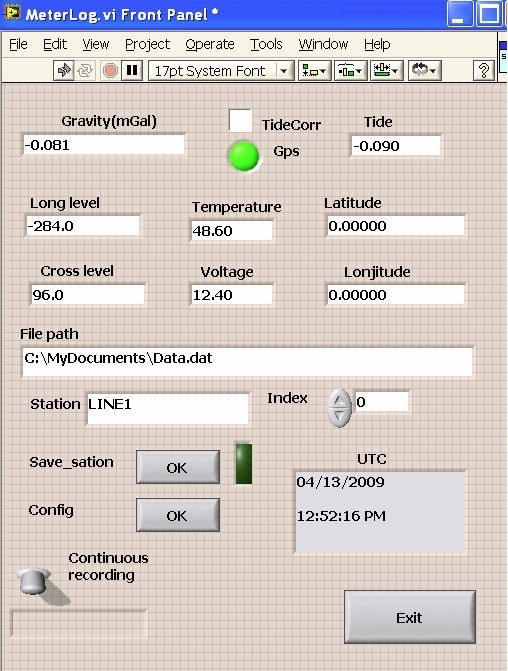 Key Features:
Outdoor rugged design certified to MIL-STD-810F and IP68

Sunlight viewable touch screen display
MIL-STD-810F compliant and IP68 certification means improved solution reliability, lower cost to support and lower total cost of ownership
All-weather durability means increased usability of product and higher end-user satisfaction
Lightweight (1.3 lb including battery)
5000 mAh lithium-ion hot-swappable rechargeable battery provides up to 15 hours of use between charge cycles

Windows Mobile 6.1 software

Standardized development platform
Information Systems Management ease
Best platform for business
Support for ten languages: English, Chinese (Simplified), French, German, Italian, Japanese, Korean, Portuguese, Russian and Spanish

806 MHz XScale processor, 128 MB SDRAM, 512 MB to 2 GB non-volatile Flash storage

One of the fastest processors in the Windows Mobile device market, made even faster with Trimble proprietary technologies for optimized graphics processing, advanced caching and high-speed journaling file system
No moving parts enables robust performance in extreme temperature and vibration

Integrated Bluetooth wireless

Easy connectivity to Bluetooth devices, including sensors, instruments and human interface devices

Expandability options

CompactFlash (CF) Type II slot for more devices
Secure Digital (SD/SDHC) card slot
USB host (cellular data modem compatible)
USB client

Numeric keypad
Shipping:
Box 1, G Meter - 34lbs, 24 X 17 X 23
Box 2, Batteries - 16lbs, 12 X 12 X 12
Ask a question about this item
*(Does not include shipping or insurance)