Seismic Tromino BLU ZERO Seismograph #109567
The Tromino BLU ZERO is a small, lightweight, 3-channel, all-in-one seismograph specifically designed for the dynamic characterization of subsoils with the highest accuracy and the lowest effort. This very adaptable device has applications for both geology and engineering (modal analysis for structures).
Typical geologic uses might be:
Mapping subsoil resonance frequencies (H/V technique)
Modeling H/V curves to obtain shear wave velocity profiles (Vs) in the presence of independent constraints.
Creating passive seismic imaging of the subsoil.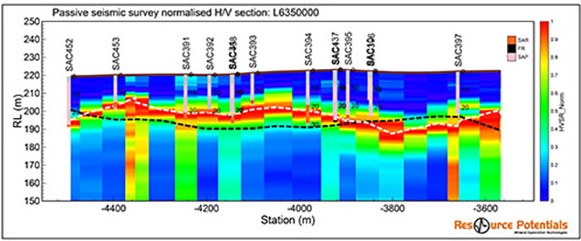 Want to know more about the many different ways to employ this device?
The system is equipped with:
3 velocimetric channels for seismic ambient microtremor and strong vibrations, 2 amplification levels (saturation: +/- 1.2 mm/s in band)
Sampling rates 128, 256, 512, 1024 Hz on all channels
USB cable for data transfer to PC
10 x 7 x 13 cm, ~ 1 kg
16 Gb storage capacity
Internal rechargeable battery
2 set of spikes for sensor-soil coupling
standard frequency band 0.1-500 Hz


Grilla software:
SW INT

SW ARCH

SW H/V

SW Vs30

SW PAWS

Data download

Database functions

Routine for subsoil data analysis (resonance frequencies): spectral analysis, directional analysis, reference site (SSR) and H/V analysis following the European guidelines (SESAME 2005, etc.). Automatic and manual trace cleaning in the frequency and time domain
Routine for structure data analysis (modal analysis): spectral analysis, directional analysis, reference site analysis (SSR, Hi/H0)
Automatic report in WordTM .doc format
Output data can be used in contouring software to produce synthetic sections

Module for Vs30 parameter estimation through constrained H/V fit

Downsized version of Grilla for single-station and multichannel recordings acquired through non-proprietary devices
Ask a question about this item
*(Does not include shipping or insurance)