Utility Mapping Metrotech Vivax vLoc-5000 Pipe and Cable Locator Kit #102170
vLoc-5000 Receiver combines Signal Select, Signal Direction and Distortion Alert in one locator. All information including GPS coordinates can be stored internally and retrieved later using My Locator2.
Receiver and Transmitter Features
Signal Select™ and Signal Direction offer
Positive Line ID
Distortion Alert™ assists in recognizing signal bleed-over
Peak Response, Null Response, L/R needle
Bluetooth® wireless communication enabled in receiver
Bright color graphical display
Broad frequency selection between 16Hz and 200 kHz

The vLoc-5000 offers the Guidance Compass™ that combines features below to aid Positive Line ID.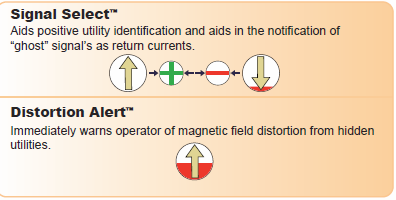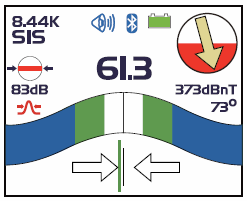 The receiver comes standard with a Lithium-Ion rechargeable battery pack which eliminates the need to constantly purchase batteries.
Global Positioning System (GPS)
The internal GPS and data logging records a site location reference and combines it with all the other information available:

Date & Time
GPS Co-ordinates
Frequency used
Depth & Current
Signal Select
Signal Direction
Distortion
Mode of operation
The Loc-10TxSIS 10 Watt Transmitter
Loc-10TxSIS combines Signal Select (SiS) and Signal Direction (SD) features to give you the best combination for positive identification. The transmitter measures line parameters in absolute physical units (volts, ohms, amps), to give critical Insights into the quality of a complete line circuit. Essential information is easily visible on the transmitter's display screen. Other enhancements include high capacity Ni-MH rechargeable battery technology that lowers operating costs.


Broad range of active frequencies between 16Hz and 200 kHz are supported for direct mode locating.
Up to 2 frequencies may be activated simultaneously to select the best signal frequency for the locate situation
Constant current, selectable in steps up to a maximum 1A
Multiple inductive frequencies from 8 kHz up to 200 kHz
Auto impedance matching optimizes the output efficiency
Optional A-frame mode for sheath fault locating.
Auto protection to 250V AC against live power connection to the transmitter.
Ask a question about this item
*(Does not include shipping or insurance)